Introducing Landscape Architect Sally Bower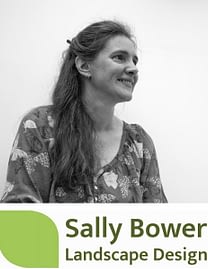 My design studio is based in south Liverpool. I take pride in designing bespoke, high quality landscape and gardens that are great for people and wildlife. I work in collaboration with Urban Landscape Design to help you realise your dreams – whether it's a calm, leafy, wild oasis for an office or a contemporary family garden for entertaining and play. My approach is to create a sense of place which fits in with its surroundings – a nurturing, sustainable landscape for plants, biodiversity and people.
What's your creative process?
My creative process starts with visiting the site and meeting the client and people who will use the space. As well as understanding the functional and practical requirements, from parking needs to compost bins, I like to spend time developing an understanding of the people and place – what makes, or could make, it special. It's often only in conversation that I find out a specific interest which I can weave into a design. For example, during a recent project I found out the client's daughter loves butterflies, so the planting reflected that.
Once I have formed a brief, I spend time developing a sketch / concept for the space. I take inspiration from all sorts of avenues, from architecture and natural elements  – such as the spiral of a fern uncurling – to the history of the site and the client's passions. This inspiration helps tell a story through the design and gives it shape. The process is a mixture of elements, including a fair amount of pencilwork on tracing paper exploring options. Increasingly I also explore the space in 3D using computer programs and on occasion make a physical model.
Can you tell us more about your design background?
I trained at Sheffield University as a landscape architect over 20 years ago. As well as being a chartered landscape architect, I am a pre-registered member of the Society of Garden Designers. Prior to choosing to set up my own practice in Liverpool, I worked for over a decade at an internationally renowned multi-disciplinary practice – Building Design Partnership. Whilst there, I gained a wealth of experience visioning and realising award-winning landscapes including Chavasse Park in Liverpool One and the grounds to Alder Hey Children's Hospital. With my own practice I have worked on a wide range of projects, from an office barn conversion set within the greenbelt of Cheshire countryside, to a spiritual garden for a religious community in Liverpool.
If you could design any space what would it be?
I'm really interested in creating beautifully designed, playful, sustainable places for wildlife and people. Taking that to the next step, my ideal designed space would be a contemporary nature reserve within a city. It would have strong architectural design, elements of play and lots of biodiversity from habitats and rich planting. The reserve could experiment with different growing mediums, like crushed ceramic or brick, for soil; it would educate and help people see what is possible with wildlife friendly planting and provide a place to escape the bustle of the city and connect with nature.
What is your planting style?
I love to create lush borders with perennials and ornamental grasses to immerse your senses in through the seasons. For each scheme the planting is designed for the specific project based on the site conditions (for example the type of soil and climate), the clients aspirations and the future maintenance. All my schemes aim to function ecologically from enhanced meadows to simple ordered plantings – taking inspiration from the way plants grow in nature. Maintenance & establishment are as important as the plant selection for the long term success of any scheme.
What do you consider are your specialisms?
I specialise in bespoke conceptual design responding to the site, client needs, brief and context. I like to connect with a specific community and create a unique space which works well for their individual needs. My ethos is to create low impact designs which reconnect people with nature, supports wildlife and responds to the site and its setting. I'm passionate about plants and also specialise in creating verdant planting schemes for wildlife and people to enjoy.