August 16, 2018
Yes, we really are doing Tough Mudder this year … !
As many of you know Jaxon's dad Gareth (Gaz) Langford used to work here at Urban Landscape Design Ltd. Sadly, the family lost Jaxon to neuroblastoma on August 12th 2017. Neuroblastoma is a form of cancer that develops from specialised nerve cells (neuroblasts) left behind from a baby's development in the womb.
So, when the Urban Landscapes team crazily decided to take part in TOUGH MUDDER at Cholmondley Castle on Saturday, 8th September 2018 we decided we would raise money to help the charities that helped Jaxon.  There are 14 of us mad enough to take part including Directors Holly & Mark – there will also be a Cheerleading team coming along to provide encouragement from the sidelines too!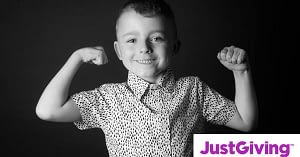 It's a five mile course with 13 obstacles and we set off at 10.30am – wish us luck! It's tough, it's dirty and it won't be easy – but we are ready for the Challenge!!
A MESSAGE FROM THE FAMILY: "Our world has been upside down ever since Jaxon passed away but we look through the memories we have made and we wouldn't have half as many if not for kindness of others and local charities . We never would have been able to have gone on our adventures and there are a lot of them.  On August 12th 2017 we lost our hero, our best friend, our king Jaxon who had battled stage 4 neuroblastoma for 23 months with the biggest smile on his face. Thanks to all the support we received from lots of people and local charities and this is our way of giving something back We have felt first hand how much it means to families to have the support of these amazing charities. (THE LANGFORDS)
Jaxon's mum and dad created Team Jaxon to raise funds in his memory and their work continues.
Please do help us to raise money for these worthwhile causes all helping poorly children to enjoy some wonderful days out where they can forget about their problems and just be kids again!
All the monies raised with go to both national charities such as Alder Hey, Tom's Gift, CLIC Sargent, Chicks Children's Charity and the Make-A-Wish Foundation. But Jaxon's parents also want to support more local charities that helped Jaxon such as Hope House, the James Apter Friendship Fund and Nicola's Fund in Wrexham.
 … just click HERE to donate if you like to support this madness in the mud!