August 24, 2018
Undoubtedly, an apprenticeship is a viable and beneficial option for school leavers to progress quickly into working life – but what are the benefits for employers?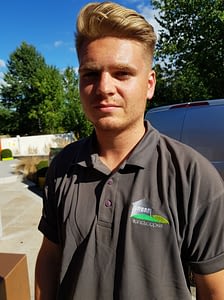 We recently welcomed Toby to the team here at Urban Landscapes as our new Apprentice and here's our Blog together with a great piece from Phil Tremayne, (General Manager, Association of Professional Landscapers) on how this scheme was developed by connecting colleges with industry.
Government statistics show that there has never been a better time to recruit an apprentice in the UK.  75% of employers report that taking on an apprentice has helped their business improve the quality of their product and service, while 77% of employers have retained their apprentice and made them a permanent employee.
Hiring an apprentice lets you build talent from scratch AND upskill existing employeesTimes have moved on and there are apprenticeships for most industry sectors and business functions.  Apprentices can be considered a second option by employers, but our experience is that offering an apprenticeship can add true value and offer the opportunity to 'mould' somebody to understand and project the ethos and values of a business in their everyday work.
Apprenticeships offer a learning experience for you tooThere has been a transformative shift in attitudes towards apprentices, and increasingly, it's the most ambitious, entrepreneurial and commercially savvy school-leavers opting for apprenticeships. There's real untapped talent for the taking.
Apprenticeships give you the chance to find your next superstar employee
We believe working with apprentices introduces enthusiasm and a willingness to learn as well as enabling the business to train the next generation and help young people in to a career in landscaping.  The advice was simple – treat the apprentices as your next superstar, not just as cheap labour. Give them opportunities to gain experience not just the basic tasks and you'll find they'll contribute a huge amount to your team and your business.
Taking on an apprentice lets you scale your business at a comfortable rate
Having both older and younger staff is a great way to scale business at a comfortable rate.  It's possible to develop younger talent into senior staff and utilise the experience of senior employees to mentor and encourage the younger members of the team.  There's a really interesting article here all about the benefits of diversity in the workplace which makes for an interesting read.
Combined with these business benefits many entrepreneurs feel it is an employer's 'duty' to hire apprentices  It is strongly believed that all businesses owners have a responsibility to employ from a diverse talent pool who might not otherwise be able to afford to work for free.
Taking on an apprentice allows you to help grow and develop an individual, allowing them to secure a better future career and improving job prospects for the future. You're investing in the future of the apprentice's career and the future of your business … 
We welcomed Toby to the team in July 2018 and think he has a great future with us here at Urban Landscapes. 
HOW THE APL APPRENTICESHIP CAME ABOUT
By Phil Tremayne, APL General Manager
"The Association of Professional Landscapers recognised the start of a skills shortage in landscaping back in 2013/14.  It also recognised there was a massive disconnect between industry and the colleges providing the training.
So, APL organised a series of meetings/debates around the country, inviting industry and further education establishments the opportunity to discuss their issues and hopefully come up with a solution.
It became apparent that the opportunity for practical hands on training at the colleges was a serious issue.  The colleges were time poor and it was clear that the curriculum didn't allow for them to be current in neither method or materials.  Industry didn't have the time to train whilst on site, as the demands on the employer to complete works profitably over ruled the need to train. This was most apparent amongst the smaller members.
Apprenticeships as a model were wholly supported, but the day release was seen to many as not sufficient, with the amount of work that could be done in one day considered to be negligible.  So after much discussion internally and with City and Guilds, the APL developed a block release apprenticeship scheme, delivered by industry experts in conjunction with Myerscough College.  This has enabled the cohorts to be trained with current industry techniques, at industry pace and standard. The support of the wider industry has allowed us to deliver current and modern materials.
As organising partner for World Skills UK the apprentices are exposed to competition and if successful have the chance to join the UK squad.  They also have the opportunity to build a garden in the relaunched Young Landscapers Competition at BBC Gardener's World Live.
Many of our members have been involved with or currently involved with major show garden builds around the country.  Once again, these links enable the APL apprentices the chance to be among the best in the country."
"We were tasked with delivering an apprenticeship for the industry delivered by industry.  I think we have ticked the boxes and were well ahead of the curve in the latest trailblazer initiative, but we still strive to continually improve what has become a best in class apprenticeship scheme"
Phil Tremayne, APL General Manager