February 21, 2020
Holly Youde encourages designers to use more soft landscaping for the benefit of the environment, health and wellbeing and for the creation of beautiful spaces in this Pro Landscaper Magazine article.
I'm not afraid to admit that I struggle with soft landscaping design. Don't get me wrong: I love plants and the atmosphere and drama they can create, along with their aromas and visual impact.
Personally, I just feel that I'm the wrong person to put them together. I understand that there are far more capable and talented designers whose strength is in soft landscape design, and I will ask for their services when required. I am more of a technical designer, and believe that there are very few designers who are both as strong with their hard landscaping and technical design ability as they are with their creative and artistic planting capabilities. If you are great at both, then good for you – you will have a very successful garden design career!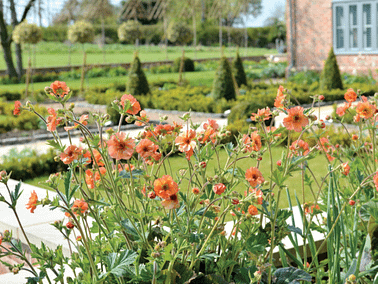 We have noticed a growing trend in projects: a rise in sterile spaces with a lack of soft landscaping to soften the hard features, and large expanses of paving and structural features. We have been guilty of these type of projects in the past too, but have realised the impact of this and have placed more importance and been more insistent with clients that they must have proportionate planting.
If you are finding your projects are lacking on the planting elements, try to identify why this is. Is it because you are lacking in confidence or knowledge, or are you just not interested in the plants? Could you or anyone in your team upskill and start the learning process? Although it is something that comes from an interest or passion and needs to be learnt over time, at least you are making some headway.
Try collaborating with another local designer. If you build a relationship, it might be of mutual benefit – they may even be happy to plant it for you. It's in your interest to make the space look the best it can be, and we all have a responsibility to keep Britain green.
It's now more important than ever to incorporate more plants and trees into gardens. Too many customers aspire to low maintenance solutions, which leads the designer or landscaper towards minimalistic planting, but this can have a detrimental effect on wildlife, biodiversity and also on general health and wellbeing. Also, consider the effect that too much hard landscaping has on climate change. The more we pave, the more heat will be trapped and the less saturated the ground will be. In the grand scheme of things, a small garden isn't going to make much difference, but little by little it will have an effect.
In the design and build world, we are in a great position to make a change and influence the end result. So, if you are not already doing so, try and have a proportion of your projects dedicated to soft landscaping – it will make the space come alive. After all, a garden is not a garden without the atmosphere of plants and trees.