May 20, 2020
If you'd like to make better use of your garden area, then why not install a canopy? They're perfect for providing protection from the weather without compromising on style. And for the best of the best, try a Renson, the ideal garden canopy for the UK.
The Renson Range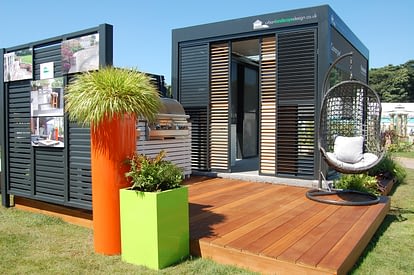 Renson are specialist producers of garden canopies and terrace covers that can withstand harsh climates whilst providing great aesthetic value. They have 2 categories of product: Square design and inclined design. Complete with a range of personal options of automatic fixscreen side blinds, sliding glass doors, Loggiawood louvered doors or Aluminium Sliding Doors, LED lighting, heating and even sound!
They boast a minimalist design which is highly innovative in both look and product design with integrated drainage channels ensuring rainwater keeps the roof water tight when closed keeping you living outdoors for even longer
Square Design
The square range from Renson consists of modular canopies with aluminium blades that you can rotate to provide protection from the elements, or to allow ventilation. 3 models are available in the square design, each varying in look and feel.
The first model is the Camargue. It is the most refined of the square designs, and by far the most customisable. You can choose between the standard model or the 'Skye' type with retractable louvre roof. The standard type is freestanding and gives you the option of adding sliding glass or wooden doors, wind tight screens, translucent blades, LED lighting, heating, and speakers.
The Camargue Skye can be installed free standing, attached to an outer wall, or connected on the pivot side. As well as having a retractable roof, this type gives you the option of wind tight screens, sliding glass or wooden panels, outdoors curtains and a 'linius wall', which can act as a kind of counter top. Additional extras include LED lighting, heating, speakers, and comfortable remote operation.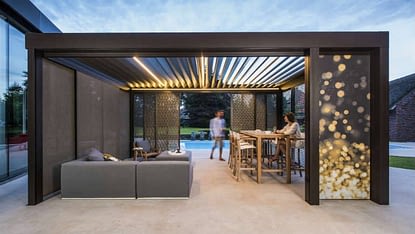 Algarve, the second model, is much more slim-line and minimal than the Camargue line. As such, it comes with less customisability, but it is still a fantastic option for those looking to upgrade their outdoor living areas. You can choose between the standard model or the 'Canvas' type. The standard type has the option of translucent blades, heating and speakers.
The Algarve Canvas type is a bit different; its roof is fixed in place. As such, Renson suggest to use it as a kind of carport, or open garage. However, you do have the option of purchasing one half of the roof in their unique fabric, and the other half with rotating aluminium blades – literally the best of both worlds! Additional extras for this type of garden canopy include wind tight screens, glass or wooden sliding panels, outdoor curtains, and LED lighting.
Finally, there is the Ellice model, which is their simplest and most affordable structure, available in a more limited 20 colours and a smaller range of size options and more limited extras, but still an ideal garden canopy to place over a hot tub, outdoor kitchen or outside lounging area.
Inclined Design
If rotating aluminium blade roofs aren't quite your thing, then Renson also have a range of inclined garden canopies with a unique fabric roof that is waterproof, sun proof and translucent.
The Lapure patio cover has a thin, sleek aluminium design. It has no additional extras available, however this means that it is by far the most affordable option, and it still looks fantastic thanks to Renson's innovative, modern design.
All Renson products are manufactured to the highest quality using the most robust and durable materials and can be enjoyed with minimum maintenance for years to come.
How would you like your very own Renson garden canopy?
If Renson's innovative range of garden canopies have you tempted, get in touch with us and breathe new life into your outdoor living space. We are the only approved landscape designer and installer throughout the North of the UK for Renson louvered canopy buildings, and our landscaping expertise will make sure that the look of your garden is enhanced to the maximum.