September 11, 2018
mud-slinging
the use of insults and accusations, especially unjust ones, with the aim of damaging the reputation of an opponent.

"politicians seem to rely on mud-slinging instead of argument"
Thankfully, this week's Blog isn't about this definition (that's just a catchy headline to get your attention!)  it's all about rolling around in mud with your workmates and hundreds of strangers!  We've all read the articles about improving dynamics in the workplace and the importance of building relationships at work through team building activities – but does it really work?
Is throwing all your employees into a load of mud on a rainy September Saturday morning, making them run five miles crawling, climbing and slithering over 13 obstacles … all in the name of building a bond with the people you work with, REALLY a good idea?
Who cares – Urban Landscape Design threw caution to the wind and signed up for last weekend's Tough Mudder 2018 at Cholmondeley Castle and here is our account of the madness in the mud!
We hope you enjoy it …
The Urban Landscapes team getting ready for the start
"Are we mad?" that was the question many of the Urban Landscapes team were asking themselves on Saturday, 8th September at 9.30am as they stood in the rain preparing themselves for the challenge ahead.  They had all signed up for the infamous Tough Mudder 2018 at Cholmondeley Castle often reported worldwide as challenging the "toughest of the tough"
"There's no doubt there was some apprehension on the day" says Holly Youde, Director "there's a big difference between agreeing to something in July on a whim in the office, and then being at Cholmondeley Castle warming up with hoards of excited strangers sliding around in the mud with the clock ticking until your allotted start time!"
The team set off at 10.30am and finished an impressive two hours later Holly added "We picked this event as it's really all about teamwork rather than being purely competitive.  We wanted something that would be fun but that would also challenge us, plus the fact it was for a great cause too."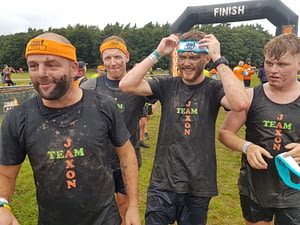 A very muddy experience which raised much needed funds for children's charities
Urban Landscapes were raising much needed funds for local and national children's charities via Team Jaxon.  Jaxon's dad Gareth (Gaz) Langford used to work at Urban Landscape Designs. Sadly, the family lost Jaxon to neuroblastoma on August 12th 2017. Neuroblastoma is a form of cancer that develops from specialised nerve cells (neuroblasts) left behind from a baby's development in the womb.
So, when the Urban Landscapes team crazily decided to take part in TOUGH MUDDER at Cholmondley Castle on Saturday, 8th September 2018 the team decided we would raise money to help the charities that helped Jaxon.
Jaxon's dad Gaz said "Our world has been upside down ever since Jaxon passed away but we look through the memories we have made and we wouldn't have half as many if not for kindness of others and local charities. We never would have been able to have gone on our adventures and there are a lot of them.
In memory of Jaxon
On August 12th 2017 we lost our hero, our best friend, our king Jaxon who had battled stage 4 neuroblastoma for 23 months with the biggest smile on his face. Thanks to all the support we received from lots of people and local charities and this is our way of giving something back We have felt first hand how much it means to families to have the support of these amazing charities.
Jaxon's mum and dad created Team Jaxon to raise funds in his memory and their work continues raising money for these worthwhile causes all helping poorly children to enjoy some wonderful days out where they can forget about their problems and just be kids again!
All the monies raised will go to both national charities such as Alder Hey, Tom's Gift, CLIC Sargent, Chicks Children's Charity and the Make-A-Wish Foundation.
"It was a brilliant day for a cause very close to our hearts" adds Mark Youde, Director  "The lads really came though and it was great to see their families come out and support them too – we work hard and play hard at Urban Landscapes and if we can do it for a worthwhile cause at the same time so much the better!  We'd like to thank everyone that sponsored us too and supported us along the way – and thankfully there were no serious injuries either!"
Team work
Holly adds "To see the sense of achievement on people's faces at the end and the pride of their families was fantastic.  I think many of the team really surprised themselves at how well they did and how much they enjoyed what was essentially a torturous five mile mud bath in the rain!  It wasn't easy but it was so worth it"
One of Urban's Team Leaders Dave gets a hug from his proud son, Jack
The event has raised over £1,000 so far and you can still donate to Team Jaxon online at the Just Giving page here.
Challenge complete!