February 24, 2020
Even in the midst of unexpected changes, learning to adapt needn't slow you down. Holly explains all in this Pro Landscaper Magazine article.
Some of you may know, if you have been on our website or social media, that our dog Dylan is a very valued member of the team at our company. He is incredibly conscientious as the head of stress management and chief of mischief and has an exemplary attendance record, clocking up as many hours as the directors. I would recommend for anyone to have a dog in the office.
About 18 months ago, though, Dylan developed diabetes, and 12 months later he had a week long stint in intensive care with pancreatitis. He has recovered really well since then, but over Christmas, within a matter of days, he started to lose his sight due to diabetic cataracts. Over the Christmas break, I was monitoring how he was coping with adjusting to sight loss, and was surprised how his senses and instinct kicked in.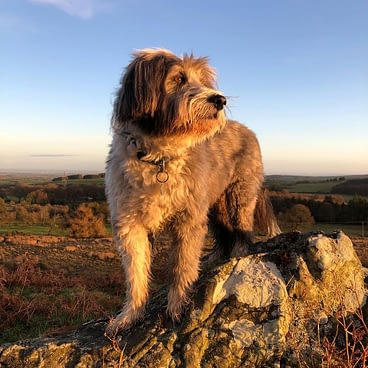 It got me thinking about how we can lose sight in business; but if you listen to your instinct and your other senses, they should guide you through the blindness and navigate a solution or route you should take. Dylan, even though he literally couldn't see me one metre away, used his sense of smell, sound, and touch to navigate his way around the walking route.
He still walked at the same pace, he still walked ahead of me, off the lead and not at my heel, demonstrating he's a pack leader and will carry on regardless, learning to adjust to the current circumstances. I was amazed; it astounded me how quickly he adapted, and I wondered – is he faking it? Is he just pretending he can't see me for attention?
Every so often, he proved that he was in fact struggling to see by stumbling over some uneven ground or walking straight through a large puddle (he normally avoids those). At times, I didn't know whether to laugh or cry, but he wasn't fazed or seemingly bothered, soldiering on as if nothing had changed.
If we applied this tenacity and resilience imagine what we could achieve. There is untapped value in not giving up because of a setback, coping with change, not worrying about what we can no longer do, and cracking on with what we can, continuing at the same pace and using our senses to guide us.
Many of us worry about what might happen, and this holds us back. We resist taking forward an idea or an opportunity in case it doesn't work, or we refrain from making contact with someone in case the conversation doesn't go the way we expected. There were times during the walks that Dylan needed guidance, just like we do occasionally; when we can't quite see something, we ask for help. If we need guidance on how to do something, we engage in training. I am currently guiding Dylan with new training when, for example, he reaches some steps or drops and warning when he is about to bump into something!
As I type this, the inspiration for this article is fast asleep on the sofa next to me, feet twitching, chasing rabbits like nothing has changed. You can teach an old dog new tricks if they are open to adapt and change.