April 16, 2019
Pro Landscaper catches up with Mark and Holly Youde, owners of Urban Landscape Design, as they prepare to open an innovative new landscaping training academy.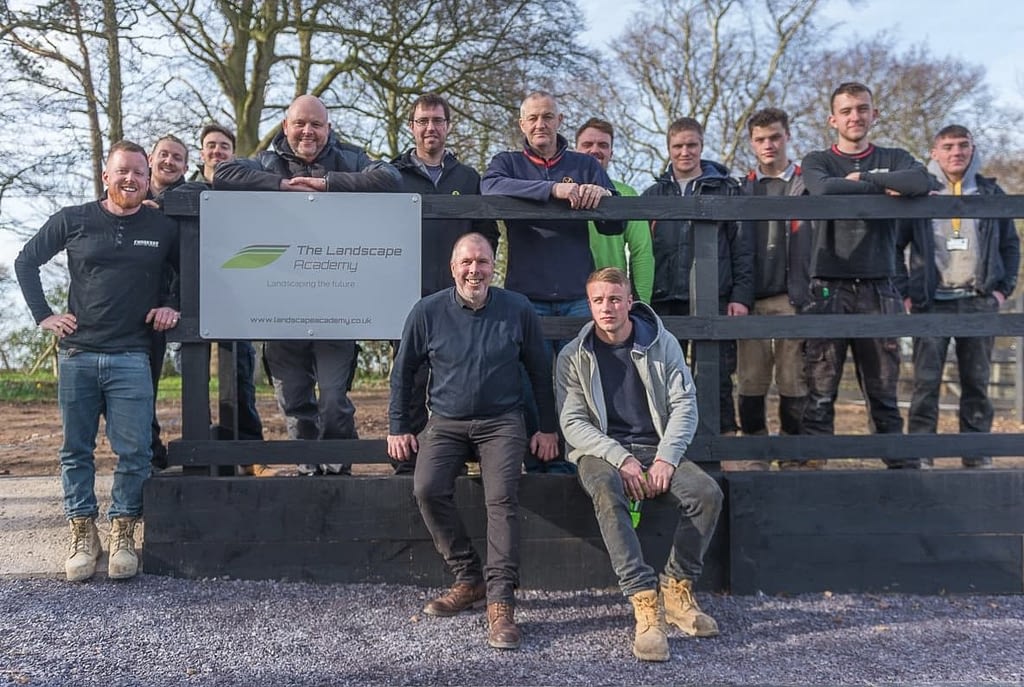 Mark began his journey into landscaping at his family's reclamation and demolition business. When he joined the company's landscaper on a project to fit some reclaimed stone, it became apparent that this was his true passion. Although he had a brief interlude as a motorsport instructor, Mark soon found his way back into landscaping, and set up his own business in 2004.
Holly took a different route. "Having been involved in motorsport events management and investments, I wanted to do something more creative. Mark had started landscaping by then, so it seemed a logical step to complete a garden design qualification. I enrolled at The Welsh College of Horticulture (now Coleg Cambria) and within weeks of starting the course, we were getting design enquiries, so I was engaging the help of my course tutor!"
Their now thriving business, Urban Landscape Design Ltd began in Holly and Mark's spare room in Tarvin, Cheshire as separate landscaping and design businesses. In 2013 they combined the two and moved to their current premises.
Within the family reclamation business, Mark, his Dad and his brother had a vision of creating a one-stop-shop so that when clients came in to buy 20,000 bricks to build a house, they could have the house designed, buy the materials, get someone to build it, someone to design the interior and someone to design and build the exterior landscape. It was on a similar ethos that Holly and Mark based their company.
With a 30-strong team, the business currently works to a skills matrix with objectives for staff to achieve within 12 months to two years so that the team is constantly improving.
A few years ago, Holly made a conscious effort to become a member of the associations and attend their events, and though Mark was sceptical about sharing their secrets, they both quickly appreciated the benefits of networking with others in the industry.
Now, they want to share their knowledge with others in the form of The Landscape Academy.
Working closely with The APL and BALI, Holly and Mark are launching what's set to be the largest landscape training academy in the UK. Mark explains: "It all started with a need to further develop and upskill our own staff. Word got out and from a few conversations the idea grew into fulfilling a great need for training."
The Landscape Academy will offer one- and two-day courses to begin with, but Holly and Mark hope to introduce week-long courses, covering everything from design, soft landscaping and hard landscaping to the management and growth of businesses and even contractual law.
"We are focusing on providing training solutions for every level right through to management, targeting what the industry feels is missing. The courses are for those who want to raise standards and move to the next level. As an example, for porcelain paving installation we will teach techniques in detail, including step formation, laying methods, cladding, detailing and cutting to precision. All sessions will be mostly practical interaction." Mark explains.
The training academy offers a bespoke type of learning where businesses can tailor the training they receive based on how much knowledge individual employees have and where they want to train those individuals to be. Holly and Mark have already had companies approach them about week-long courses for their whole business due to the flexibility of this learning.
The Landscape Academy also differs from some other training facilities due to the variety of products available to learn about. Although Urban Landscape Design is a partner of London Stone, the academy isn't solely focused on its products – the academy will be able to teach about a variety of materials. Mark says: "We're already talking to an innovative adhesive and grout company from Spain about introducing the use of their product outdoors that will provide solutions to issues occurring in the UK."
Mark is currently completing a City & Guilds in teaching to back up his vast experience so that he can train at the academy, along with other highly experienced trainers.
Rather than competing with the colleges, Holly and Mark see the academy as the next level. "Everybody you speak to says colleges aren't able to keep up with the innovations within the industry, and most companies are struggling to find staff with the correct skills," Holly explains.
Beginning with a core group of courses which will be practical skill-based, Holly and Mark hope to evolve the training centre and eventually aim to get other industry experts in to help with specialised courses. They have already had an overwhelming response from people within the industry.
"Tim O'Hare has been really helpful on a recent project, I can't sing his praises enough," says Mark. "He's keen to become involved with the Academy with education on soil and drainage. London Stone are keen to support us as well as several other industry suppliers. The facility has a vast array of potential uses including product launches, venue hire for bespoke events, trade shows and product testing."
The APL will be running some of its own courses through the academy, which will fit in with its new installation guidelines currently under development, and Holly and Mark are looking into getting Lantra qualification approval for all or some of their courses.
Ross Conquest recently visited the site in preparation for the Perennial Lifeline Garden at the RHS Chelsea Flower Show 2019. Year two APL apprentices from Myerscough College joined Ross to help him work on the garden, giving them the chance to learn about the process. When it comes to the actual building of the show garden, six or seven apprentices will be selected, mentored by Mark, to assist Ross – a great example of what the academy can provide and the type of collaboration which can be facilitated by it.
The Landscape Academy launches at the end of April. See www.landscapeacademy.co.uk for more information.