January 18, 2019
Once it starts to get colder outside, we tend to recluse ourselves to the safety and warmth of indoors. However, with a bit of work, outdoor spaces can be made just as inviting. Here are our tips on how to create cosy outdoor living spaces all year round and make the most of your outside areas.
Canopies
With minimal effort, a canopy can transform a terrace or patio into an outdoor space for all weathers. We are approved canopy designers and installers for RENSON, European leaders in terrace covers, and their range of covers are sure to have something to fit your style.
Fire pits
What's cosier than huddling around an open fire? Not much, in our opinion!
Outdoor fire pits and fireplaces can be gas or wood and are perfect for keeping warm on a cold night. They offer a great opportunity for all the family to get together and chat, or even toast some marshmallows. They also have a certain charm to them that simply can't be matched by modern electric heating.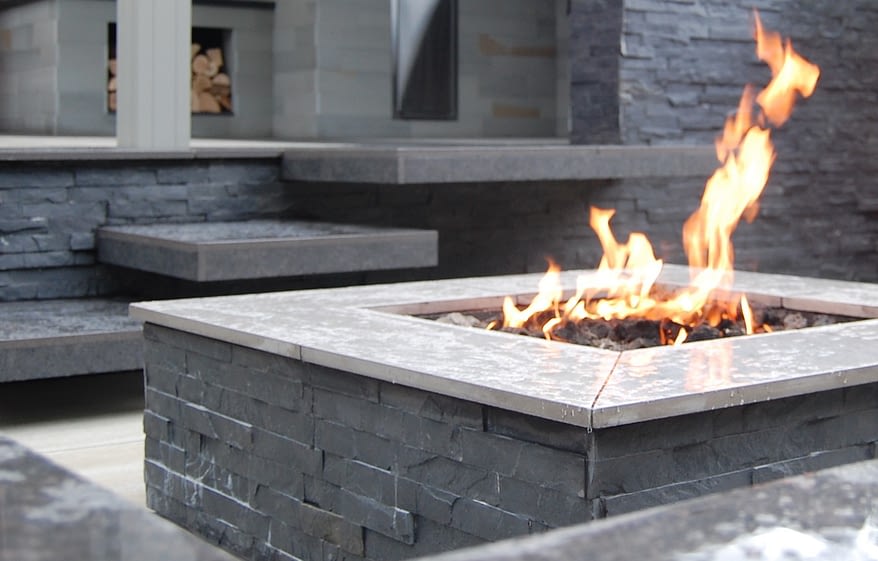 Outdoor rooms
As opposed to simply adding a canopy, why not invest in an outdoor room? This could be anything from an outdoor seating area all the way to an outdoor kitchen – we've built it all! The possibilities are endless and you can really make it your own.
Garden rooms are fantastic for those who want some alone time, and you can get creative with furniture and lighting to create a space for reading, crafting or whatever else you fancy. On the other hand, you could also create a space perfect for socialising, such as an outdoor bar, entertaining area or even an outdoor cinema.
Gazebos make ideal bar areas and you can utilise flexible seating like stools and benches to accommodate large groups. Outdoor kitchens are especially useful when cooking things that tend to linger indoors, such as fish and smoked foods. Plus, you'll be able to get a breath of fresh air whilst you eat.
Sunken seating areas
Why go up when you could go down?! Sunken seating is the ultimate cosy seating solution, and you'll naturally be protected from the wind thanks to the below-ground design. Team this with a fire pit or canopy and you've got a match made in heaven.
Plant trees
Plants seem to be the answer to all of our problems these days. Aside from making your outdoor space more visually appealing, trees also have the added benefits of being a natural wind blocker, creating shade and granting privacy. Therefore, with some careful placement, you can enjoy a remote outdoor experience with minimal chill.