May 20, 2020
Outdoor kitchens are fast becoming the ultimate must have for those seeking to embrace a more outdoor lifestyle. Here are 8 good reasons why you should definitely have one, in our opinion.
For the entertainment value
Imagine it: you're having a little get-together, everyone is sitting outside in your brand new outdoor kitchen, having a fantastic time. A soft breeze is blowing the scent of food through the garden and the sun is cracking the flags. The kids are playing together in the sun.
Could you imagine this with an indoor kitchen? Of course not. Outdoor kitchen – 1, indoor kitchen – 0.
They increase your home's value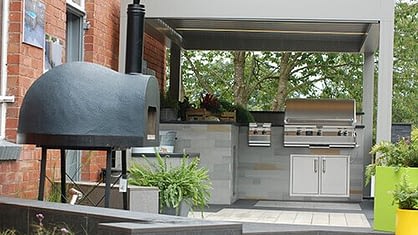 Even if you have no intention of moving any time soon, it's good to know than an outdoor kitchen will boost your home's value tremendously. This will only increase in value over time, so if/when you do eventually sell your home, you will reap the benefits of your investment.
Keep nasty odours outside
Need we say any more? Nobody likes the lingering smell of last Friday's fish, or the curry that, although lovely when you made it, is now clinging to the furnishings! An outdoor kitchen eliminates this completely, as the smell of whatever you're cooking will stay outside and blow away with the wind.
Create more liveable space
The main thing that we Brits do in the garden, is lounge in it. The minute a bit of sun comes around, the sun loungers are out and we're making the most. But what if your garden was useful for more than just sitting around?
With an outdoor kitchen, your garden becomes a 2-in-1 dining and lounge area. This is fantastic if your home is a little on the small side, or simply if you love spending more time outdoors. And you don't have to restrict its usage to the warmer months, either – the heat of all the cooking you'll be doing will warm up the outdoor area and make it comfortable to dine al fresco, whatever the weather, or you can add outdoor heaters.
Step up your cooking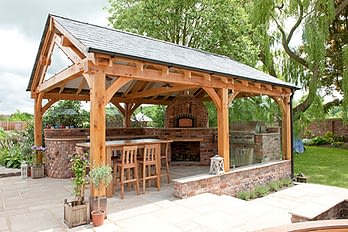 Have you ever wanted to experiment with your cooking? Like making authentic wood fired pizzas, or smoking your own fish? Outdoor kitchens make this entirely possible. An indoor pizza oven or wood fired oven would require you to rip out the majority of your lovely kitchen, and having a smoker indoors is simply a no-go. So, the only solution is to create your very own outdoor kitchen and let your inner master chef run wild.
More relaxed atmosphere
There's just a different mood to things when you're outside. We can't quite explain it, but al fresco cooking and dining is just so much more laid back and enjoyable. Don't you agree?
A breath of fresh air
No, this isn't the same thing as keeping out bad smells! An outdoor kitchen gives you the opportunity to get a much-needed breath of fresh air in an era when more and more of us are spending too much time indoors. It's great for both your mental and physical health, so do yourself a favour and dine outdoors every once in a while.
Healthier eating
When you're cooking outside, you're likely to be using a grill. That means that some of the oils or fat from your food will be drained away, therefore making your meals healthier. And what could be better than that?
Have we convinced you to get an outdoor kitchen?
We might be biased, but we think kitchens are better when they're outdoors. If you'd like to get your very own bespoke outdoor kitchen, give us a call on 01829 740194 or email [email protected] Our design team have a ton of experience in all things outdoors, and our professional landscape installers will be able to make your ultimate outdoor area a reality, inviting you to spend more time outdoors.