September 13, 2018
There's already a decided September chill in the air and sadly the summer months are just a fading memory. Your outdoor space does not now need to be limited by the seasons however, as there are now so many creative and innovative products and designs in the ever growing Fire Pit market to add a little spark to your outdoor area.  A fire is hypnotic and can quickly create a state of trance – if you have a fireplace or wood burning stove at home, or if you have ever been camping, you know how mesmerizing a fire can be.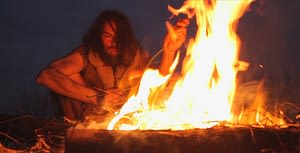 From the very early caveman days (yes, even before television – millennials) fire gazing was a way of quietening the mind and relaxing!  Your average caveman/woman would go hunting for food and return to camp to stare at the fire and ruminate over the day's hunter/gathering experiences.  Now you can do this all year round with your very own fire pit!  Studies show that fire gazing causes blood pressure to drop, we become calmer and more sociable and this was the same for ancient man too.  Prehistoric people gathered around campfires to keep warm, make friends, stay safe all of which would have given them a survival advantage.
You can recreate the magic of ancient times and keep it going well into the winter months with your own open air gatherings and really maximise the use of your garden all year round with your very own fire pit, plus you don't necessarily have to spend a fortune.  There are prices for every pocket from a basic off the shelf brazier to a bespoke fire pit designed especially for you – it really depends on your budget and requirements.
Even if you have a small patio or terrace there's a compact fire pit for you.  Even the smaller fire pits will add some autumn ambience to your outdoor space and give off plenty of heat.  Forget scented candles you can even have a scented fire pit just by burning cinnamon sticks, dried herbs, pine cones (make sure they are the mature ones as the young cones are too full of sap and won't burn properly) or even just add a few drops of scented oil to your logs and let them dry before you burn them.
So, don't let the chilly evenings keep you indoors, get a nice glass of Shiraz (or a mug of cocoa if you're involved in Sober October) and enjoy warming yourself in the garden all through autumn and winter.  You can enjoy your garden late into the evening and your fire pit will be a great focal point design wise too.
Here are some we designed … roasted marshmallows are optional!