July 10, 2020
As a business, everything you spend money on should ideally bring a good return. We're here to tell you why commercial landscaping is definitely something you should invest in.
The importance of landscaping
Landscaping is much more than simply improving the outdoor space. For example, did you know that a well-landscaped premises can actually increase footfall? High footfall is crucial for physical businesses because it creates more opportunities for people to make a purchase. How does this work? Well, when you think about it, it makes perfect sense.
If a business appears visually pleasing, it is more attractive to customers, therefore making them more likely to enter. Nobody wants to come into your premises if the outside looks old and forgotten. Equally, nobody will even notice the building amongst the masses of other beautifully presented shops on the high street. Competition is fierce and you need to stand out.
Mood and purchase behaviour
So, you've got more customers inside your establishment. So what? Well, did you know that landscaping can actually affect the mood of your customers? Bet you didn't.
Great landscaping lifts the mood of both clients and employees, making for a more positive atmosphere that people can enjoy. When people enjoy being in your premises, they are infinitely more likely to stick around, and maybe even purchase something. It's this type of enjoyable, buzzing atmosphere that people want to be a part of, even if only to stay longer.
So, commercial landscaping can help to attract more customers that are more willing to spend with you, and it is also great for staff retention. Need we say anything else?
Commercial landscaping as a business investment
Although professional commercial landscaping may seem like a big investment at first glance, it is also an investment that reaps fantastic rewards. Not only will your customers perceive your business as more professional, high quality and trustworthy, but you'll also have great curb appeal.
You don't have to go crazy with it, either. Nice, well-maintained premises or a feature piece should be more than enough to make the right impression and draw in more customers. You'll also be perceived as more eco-friendly by incorporating nature into your premises.
Our commercial landscaping work
If you still have doubts as to whether commercial landscaping is really worth it, take a look at some of our past works. Each one is unique in its own wonderful way and we thoroughly enjoyed constructing them all.
Countess of Chester Hospital, Chester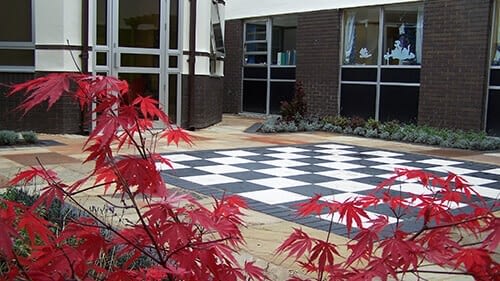 We implemented natural sandstone paving, sensory plants and a limestone tile chequerboard for the Countess of Chester Hospital's courtyard area.
Designed by Richard Rodgers, the project aims to provide a refreshing and stimulating environment for patients of all ages to play, relax or contemplate during their time at the hospital.
Double Tree Hilton Hotel, Chester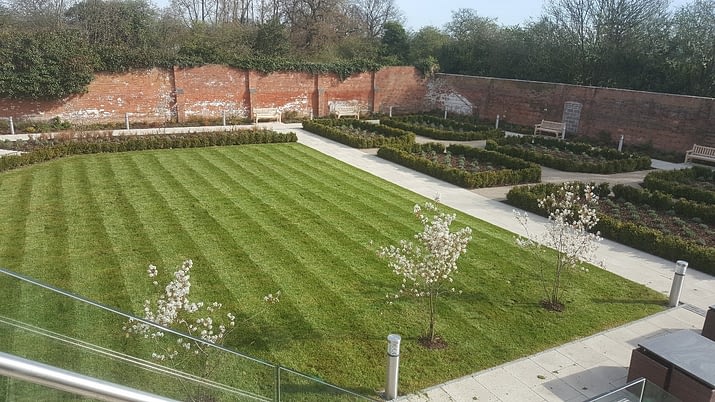 On behalf of the main contractor, we have now completed various projects at the Double Tree Hilton Hotel, Chester. These include the gardens of the new Garden Room and Terrace Restaurant, renovation to the feature pond area at the front of the hotel and other extensive planting areas. The design by Exterior Architecture features turfing, native plants and Coir mats to increase biodiversity.
The FED Care Home, Prestwich
We pulled out all the stops for this award-winning dementia garden. Working directly with the client, we constructed a seaside themed garden area where the patients at their Heathlands Village Care Home could reminisce and find a place of solace.
Designed by Agathoclis Beckman, the project features weathered oak sleeper structures, sea-worn cobbles, beach-themed huts and a millboard decking pier. The surfaces and resin bound for safer use and the garden is styled with various nautical elements to evoke a truly authentic beach experience.
Home Farm Barns, Wirral
Designed by Shackleton Associates, this beautiful communal courtyard features sawn stone paving, turfing, bespoke timber trellis, formal planting, Lutyens style benches and a bespoke water feature. We believe the overall effect greatly enhances the character of the prestigious barn conversion development and we are very happy to have been the chosen landscapers for such a task.
How we can help your business with commercial landscaping
As you can see, our skill and passion for landscaping can transform your commercial premises into something unique and memorable for your clients. Our unique approach will guarantee you a fantastic result every time.
Urban Landscapes are based in Chester, but we can travel to around a 50-mile radius from our offices at Barrowmore Enterprise Estate, Chester CH3 7JA. Past projects have been completed from Shropshire to Manchester, and we do love a challenge!
So, if you're in need of a commercial landscaper in Chester, Cheshire, The North West or North Wales then look no further. Contact us on 01829 740194 or email [email protected]