August 1, 2019
With an abundance of apps, software and social media available for your business, Holly Youde lists her top choices in this Pro Landscaper article.
Just when I think I'm up to date with technology, I speak to someone who raves about a new plug-in or app and realise I need to update my software knowledge. Regardless of how technologically advanced you are, it's worth keeping an eye out for anything new. It could help make your job easier, and keep you organised and ahead of the game. Here is a little insight into what we use at Urban Landscapes to help you navigate your way down the list of useful apps out there.
Accounting software is fundamental for small businesses. There are some excellent online apps and software available that will also work as your customer database, keep track of costs on projects, and point to where your finances are. We have used online accounting software Kashflow in the past, but have recently switched to Xero accounting, to create paperless accounting.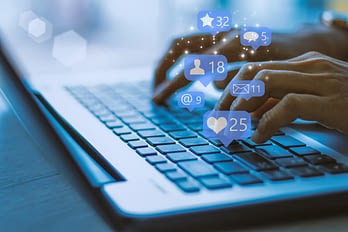 There are constant debates about whether businesses need social media accounts such as Facebook and Twitter. For us, these platforms are a good way of keeping staff and potential customers up to date with what we are doing and can be a powerful way of staying under the spotlight. Facebook and Instagram are great for sharing photos and videos, Twitter is a good place for commentary, and LinkedIn to create a professional network and build on relationships. We have found MailChimp to be a successful mechanism for marketing campaigns and an effective way of reaching new people and tracking the results of your publications.
When planning and organising our work we go to Google Earth, Google Maps and various weather apps to gain an accurate overview of a site, and use these tools for scheduling work.
In order to plan and organise our staff and resources efficiently we use the TeamUp app. This is a useful and flexible resource that helps us track multiple projects. Timetastic, on the other hand, helps us record staff leave time to avoid any disputes over holiday bookings and accommodate any shortfalls of staff during our busy periods.
To keep health and safety a primary priority we utilise CDM Wizard and Citation to form our method statements and risk assessments. Communication within the team is via a wide range of platforms including WhatsApp, texting, Slack, Skype and FaceTime.
Call me traditional, but a good natter on the phone is still often the best way. We are also regular users of Dropbox – an excellent way to share images and documents across the team.
My favourite all time app is Trello. Having a terrible memory, I have to write everything down, so Trello is basically my ongoing work-inprogress list. It's a handy organisational tool to monitor projects and prioritise tasks.
These recommendations are just a handful of the huge choice of apps out there, and listing those we regularly use has made me realise just how much the team and I rely on handy technical tools every day.
For those of you now frantically searching and downloading my suggestions, there is one app you might want to try first so that you can sleep tonight – Headspace. I highly recommend this meditation app to catch some well earned rest after a hectic day.