June 3, 2019
Our Director, Holly Youde, discusses the impact of industry shows for the business in this Pro Landscaper Magazine article.
Industry shows are good for business says Holly Youde and the rewards are worth the expense of travel and time out of work
Having this year attended more trade shows, garden shows and industry events than ever, it got me thinking about the impact and contribution this creates for the business.
Depending where you are in the country, currently the most relevant trade shows to our industry are in London and Europe, so taking some time out and travelling has an impact on many of us – there is a big financial impact with travel, hotels and time out of the office (or site depending where you're working). But the opportunities you could miss if you don't go and the relationships you build by face-to-face contact far outweigh these cons.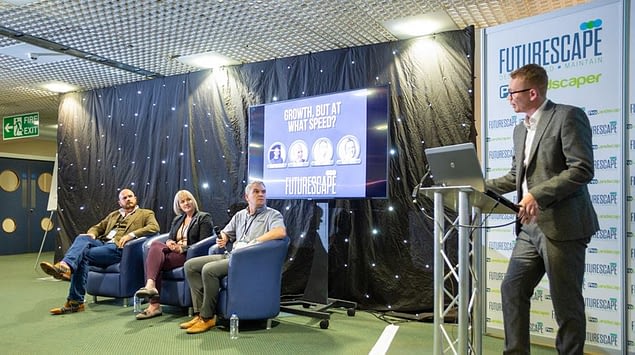 There are some simply brilliant and supportive suppliers in the industry who make our jobs a whole lot easier with innovation, slick service and first class products. They are present at the shows to promote their wares and share information, and they put in huge amounts of effort. If you spend time with your suppliers it will consolidate your relationship and could lead to future opportunities.
It's also a good chance to speak to the trade associations, especially if you are not already a member. You'll hear about the support they provide throughout the industry and how they support individual members to change, flourish and grow.
It's important to support industry charities and see how you can get involved. They are always present at shows and you never know when you or any team members may require to access their support.
I particularly love the seminars which provide information and different perspectives on subjects – you can always read up on the subjects, but there is nothing better than seeing in person those willing to share their experience and asking any burning questions on the day. It can save you making the same mistakes they did and you can pick up tips and tricks to improve your business.
There is so much inspiration surrounding you at any event, whether it is rising stars in the industry, new products, innovation, legends, companies to aspire to, or companies to help nurture and mentor. All are sources of encouragement and motivation to continue to succeed and grow.
There are times when it can be difficult to make the time to go to shows but you will never regret making the effort, even for a nugget of information. We would be complaining if there weren't any shows so make use of them and make it worthwhile for the trade stands and the show organisers to go to the effort of being there. So get involved if you're not already, support your inter-industry colleagues and it will be reciprocated, building a solid support network for your business. On a final note to show organisers – please try again up North, we are ready! I promise to round up the troops and get everyone there for a great show.