November 26, 2018
Well what a week! We started with a nice chat with Prince Edward, Earl of Wessex at the Bridge Community Farm opening of their new Hydroponics Unit. We are hoping to work with the farm to improve its infrastructure, as they are doing some fantastic work with the local community and are 'helping make the world around us a better, happier place.' They provide a therapeutic and caring environment for those with lifelong learning disabilities and mental health issues. Training and life skills are offered to children and young people struggling to thrive in a standard academic environment within outdoor study facilities.
The charity's main purpose is to create permanent and sustainable jobs for the long-term unemployed by growing and selling fruit, vegetables, salads and herbs to the local community.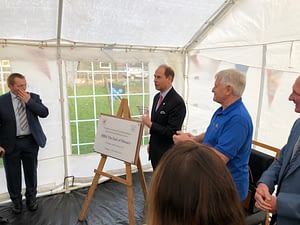 Later that afternoon we rushed down the M6/M40 to Futurescapes which is simply the busiest trade show EVER! Hats off to the Pro Landscaper/Futurescapes team who put on a great show. Anyone who is anyone in landscaping is there and its always great to catch up and meet new like minded people in the industry. Big thank you to the Pro Landscaper Events team for inviting our Director Holly to speak in the seminar on the day about Business Growth, along with Ken White from Frost Landscape Construction and Barry Randall from Leicestershire Garden Design.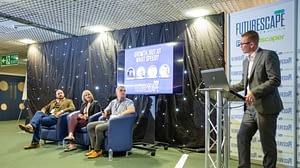 We would also like to congratulate the winners of the Small Project BIG IMPACT Awards which we helped judge. It was our first judging experience and was great to see such a high standard of work throughout – it wasn't easy! Into the evening we were invited to attend the Pro Landscaper Summit which was an enjoyable evening of industry debate, dinner and networking.
After staying the night, we popped to see the new London Stone showroom in Farnham which was almost finished and looked superb. Featuring a Renson louvered roof, it was definitely the best yet!  One of the highlights was meeting Hector the dog (and bumping into Jamie and Gavin of course). London Stone launched their new Designboard Cladding at Futurescapes which we will have available at our showroom in 2019. Then on the way back up the motorway we called in to see Crown Pavilions to spec a garden room for a client.
After a very busy and exciting few days, we finished of the week with Friday donuts of the Krispy Kreme variety, closely guarded by Dylan.