July 10, 2020
Without a doubt, fire pits look great, but they are way more than just an aesthetic. Here are our top reasons to install a fire pit within your outdoor space.
Alternative cooking area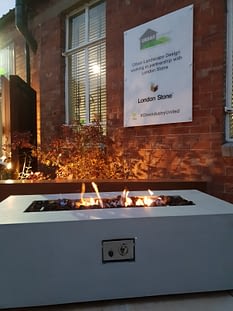 Think of all the possibilities you have for cooking over an open fire. You could toast marshmallows, or cook a big batch of fresh popcorn the traditional way. A fire pit brings the nostalgic feel of a childhood camping trip straight into your back garden. The kids will love it and it is a wonderful crowd pleaser for your parties.
Extend your time outside
Having a fire pit in your garden will mean that you can keep warm on chilly days or evenings whilst still being outside.  Keep the party going outside by lighting the fire and watching the flames lick around.
Create a focal point
Gardens don't usually have one specific area of interest, they tend to function as fluid spaces. However, with a fire pit, you can add some much-needed structure to your garden and create an atmospheric space for people to gather. Guests will love the communal outdoor space and your family will benefit from an extra living area within the boundaries of the home.
Add flair to your garden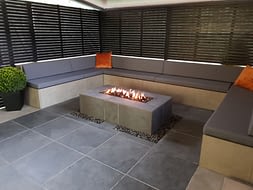 As fire pits are ultra-customisable, you can design the ideal setup for your garden. You could go modern, rustic, elegant… using stone, brick, porcelain or polished concrete – whatever takes your fancy. A custom fire pit is the ultimate way to show off your design flair and create an inviting space to chill.
Cosy up at night
We can't think of a more ideal scenario than huddling around an open fire at night, under cosy blankets, enjoying the feeling of being warm and snug. There's just something that much more satisfying about sitting by the fire when it's chilly outside. We can't explain it. Add some hot chocolate to this scene and you've got a winning combination!
Tailored to fit
You can have a fire pit made to fit your particular space, whether that be big or small. This means that you can have all the benefits of a fire pit with a design that perfectly complements your garden's size and layout.   With a choice of gas fired or wood burning fire pits, depending on your preference, they can all be bespoke sizes and can even be fitted inside a bar or dining table.
We can install the right fire pit for you
At Urban Landscapes, we have more than enough experience in designing and installing fire pits. We even have some to view at our HQ. So, if you need a bespoke landscaping solution for your garden, we can help. Give us a call on 01829 740194 or send us an email at [email protected] We'd love to see how we can help you.